RDOG Perking Up After a Strong REITs Earnings Season
August 15, 2022
Last week, the ALPS REIT Dividend Dogs ETF (RDOG) gained 4.88%, outpacing the broader REIT market and US equities market on a slew of positive earnings for its underlying REITs, as well as positive sentiment around "peak" inflation that may slow the Fed's tightening cycle.


Each of RDOG's nine REIT segments saw positive returns last week, with its Hotels & Resort REITs returning the most for the period. Service Properties Trust (SVC, 2.82% weight*) led the segment higher, returning 11.40% last week after a follow-on earning's rally in which the company boosted its liquidity with the sale of sixty hotels to put it back into compliance with its debt covenants. Also contributing to last week's return was hotel operator, RLJ Lodging Trust (RLJ, 2.31% weight*), which rallied nearly 8% after stellar funds-from-operations (FFO) earnings the week prior on increasing US business travel.


Within RDOG's Office REITs segment, Vornado Realty Trust (VNO, 2.13% weight*) jumped over 10% last week after a Bloomberg analyst cited higher quality buildings garnering the bulk of US office space demand with above average occupancy and pricing power. SL Green Realty (SLG, 2.09% weight*) also rallied over 8.50% last week on the positive sentiment around higher quality office space for its properties in Manhattan.


RDOG Health Care REIT, Sabra Health Care REIT (SBRA, 2.53% weight*), gained over 9% last week following The Center for Medicare and Medicaid Services (CMS) announcing a 300 basis point (bps) increase in 2023 payment rates at skilled nursing facilities (SNFs), against a market expectation of negative 70bps. Lastly, Retail Mall REIT bellwether, Simon Property Group (SPG, 2.50% weight*), gained nearly 9% last week as cooling inflation and energy prices should help consumers return to shopping malls with increased purchasing power.
"REITs posted record-high funds from operations (FFO) in the second quarter 2022 as they navigate ongoing interest rate increases and high inflation."



– Nareit Total REIT Industry Tracker report, August 15, 2022

Cooling US Inflation is not Showing Up in Rents
With the US Consumer Price Index (CPI) declining in July, REITs have rallied sharply off their lows set in June as long-term interest rates have also fallen in conjunction with lower inflationary expectations going forward. While REITs tend to act more defensive during inflationary periods due to their CPI rental rate adjustments each year, lower long-term interest rates allows REITs more financing flexibility with their property acquisitions and remodels. Despite the lower July CPI print, prices for rents still increased by 0.7% sequentially from June and 5.7% higher year-over-year.


Coming off the back of a strong earnings season, the REIT sector saw significant growth in FFO across all segments. JP Morgan raised their 2022 and 2023 FFO/share guidance for several REITs within RDOG, including Residential REIT, Equity Residential (EQR, 2.42% weight*), which gained 6.30% last week as the outlook for apartment demand and pricing power continues to grow. With stronger FFOs throughout the sector, RDOG's Price/FFO valuation remains at a discount of 12.62x against the SNET US REIT index at 18.45x.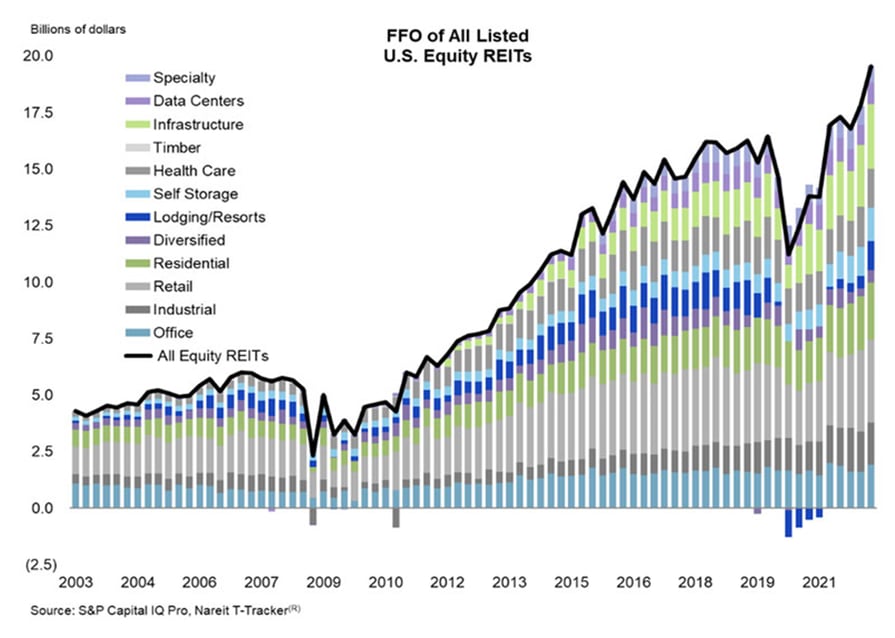 REITs FFO for 2Q 2022 reached a record high of $19.6 Billion, increasing by almost 10% since last quarter, with almost every REIT segment growing quarter-over-quarter.


Along with record high FFO, REIT's occupancy rates have also recovered, exceeding pre-pandemic levels for the first time. Most notably, retail occupancy rates grew to 96.9%, almost 100 basis points (bps) higher than last quarter.


Looking forward, REITs are well prepared to withstand continued rate hikes as promised by the FED thanks to their low levels of leverage and well-structured debt.

Performance Summary1
| | | | | |
| --- | --- | --- | --- | --- |
| | 1 Week | YTD | 1 Y | 3 Y |
| ALPS REIT Dividend Dogs ETF (RDOG) | 4.70% | -9.05% | 0.16% | 14.83% |
| S-Network REIT Dividend Dogs Index2 | 4.72% | -8.90% | 0.52% | – |
| S-Network Composite US REIT Index2 | 4.38% | -9.76% | 0.62% | – |

Source: Bloomberg L.P., as of 08/12/2022

Performance data quoted represents past performance. Past performance is no guarantee of future results so that shares, when redeemed, may be worth more or less than their original cost. The investment return and principal value will fluctuate. Current performance may be higher or lower than the performance quoted. For current month-end performance call 1-866-759-5679 or click here. Performance includes reinvested distributions and capital gains.

1 Effective 01/02/2020, the ETF changed its underlying index and principal investment strategies; consequently, the ETF's total returns shown for the periods prior to 01/02/2020 are not necessarily indicative of the performance of the ETF as it is currently managed.

2 The Indexes commenced operations after RDOG's inception date (05/07/2008). The S-Network REIT Dividend Dogs Index commenced operations on 10/29/2019 and the S-Network Composite US REIT Index commenced operations on 02/12/2016.

For standardized performance please click here.

* Weight in RDOG as of 08/12/2022


Top 10 Holdings
| | | | | |
| --- | --- | --- | --- | --- |
| Duke Realty Corp | 2.84% | | EPR Properties | 2.51% |
| Service Properties Trust | 2.82% | | LTC Properties Inc | 2.51% |
| VICI Properties Inc | 2.58% | | Simon Property Group Inc | 2.50% |
| Essential Properties Realty Trust Inc | 2.55% | | National Retail Properties Inc | 2.48% |
| Sabra Health Care REIT Inc | 2.53% | | Realty Income Corp | 2.47% |

As of 08/12/2022, subject to change


Important Disclosures & Definitions

An investor should consider the investment objectives, risks, charges and expenses carefully before investing. To obtain a prospectus containing this and other information, call 1-866-759-5679 or visit www.alpsfunds.com. Read the prospectus carefully before investing.

Shares are not individually redeemable. Investors buy and sell shares on a secondary market. Only market makers or "authorized participants" may trade directly with the Fund, typically in blocks of 5,000, 25,000 or 50,000 shares.

Performance data quoted represents past performance. Past performance is no guarantee of future results; current performance may be higher or lower than performance quoted.

All investments are subject to risks, including the loss of money and the possible loss of the entire principal amount invested. Additional information regarding the risks of this investment is available in the prospectus.

The Fund is subject to the additional risks associated with concentrating its investments in companies in the market sector.

Diversification does not eliminate the risk of experiencing investment losses.

Ownership of real estate is subject to fluctuations in the value of underlying properties, the impact of economic conditions on real estate values, the strength of specific industries renting properties and defaults by borrowers or tenants. Real estate is a cyclical business, highly sensitive to general and local economic conditions and developments, and characterized by intense competition and periodic overbuilding. Credit and interest rate risk may affect real estate companies' ability to borrow or lend money.

The Fund employs a "passive management" - or indexing - investment approach and seeks investment results that correspond (before fees and expenses) generally to the performance of its underlying index. Unlike many investment companies, the Fund is not "actively" managed. Therefore, it would not necessarily sell or buy a security unless that security is removed from or added to the underlying index, respectively.

Real Estate Investment Trust (REIT): companies that own or finance income-producing real estate across a range of property sectors. Listed REITs have characteristics of both the income potential of bonds and growth potential of stocks.

S-Network Composite US REIT Index (SNREIT): a benchmark index for the Real Estate Investment Trust component of the US stock market.

S-Network REIT Dividend Dogs Index (RDOGX): a portfolio of stocks derived from the S-Network Composite US REIT Index (SNREIT). The RDOGX methodology selects the five stocks in each of the nine segments that make up SNREIT which offer the highest dividend yields as of the last trading day of November.

One may not invest directly in an index.

ALPS Advisors, Inc. is affiliated with ALPS Portfolio Solutions Distributor, Inc.

ALPS Portfolio Solutions Distributor, Inc. is the distributor for the Fund.

Not FDIC Insured • No Bank Guarantee • May Lose Value 

GRI000458  11/14/2022