Clean Energy Sustains Recent Momentum with Strong Growth Prospects
November 7, 2022
Last week, the ALPS Clean Energy ETF (ACES) outpaced weak US equities as clean energy stocks reported impressive earnings, despite macro headwinds. With the Federal Reserve (Fed) boosting overnight interest rates another 75 basis points (bps) last week to the range of 3.75%-4%, investor fears of a 2023 recession were slightly ameliorated by a stronger-than-expected US jobs report for October last Friday. As we head into the winter season with depleted inventories of US crude oil, gasoline and natural gas, investors bid up the clean power generation segments in ACES last week (solar, wind, hydro/geothermal) on a strong runway of growth for those companies as the global energy transition to net-zero emissions gains momentum.


ACES' Solar segment names shined last week, propelled by increasing demand for global solar installations. First Solar Inc. (FSLR US, 6.96% weight*) gained nearly 16% last week after announcing a strong order backlog for its solar modules through 2025 in the company's 3Q earnings release. Also moving higher post 3Q earnings, battery and solar panel installer, SunRun Inc. (RUN US, 4.38% weight*), rose 9.77% last week after beating earnings estimates and projecting 2022 installed solar energy capacity growth to top +25% year-over-year. Another notable mover within ACES Solar segment last week was Sunnova Energy Intl. (NOVA US, 1.76% weight*), which rallied 5.32% on positive momentum surrounding its expected 4Q residential solar additions in the US.


Geothermal solutions provider, Ormat Technologies Inc. (ORA US, 4.07% weight*), led ACES' Hydro/Geothermal segment last week, rising over 8% after the company released a 3Q revenues beat, citing strong forward-looking global growth for geothermal projects from increased policy support and elevated pricing for fossil fuels. Continuing the trend of strong gains within the Hydo/Geothermal segment, Brookfield Renewable Partners (BEP-U CN, 4.59% weight*) rallied 2.03% last week on the back of strong expected future cash flows for its renewable energy portfolio, as Brookfield plans to commission at least 10 gigawatts (GW) of clean energy projects over the next three years.


Optimism surrounding clean energy earnings, project development and fiscal support touched all seven ACES clean energy segments last week, with additional notable outperformers in ACES' Electric Vehicle (EV), Wind and Bioenergy segments. Zero-emission EV producer, Lion Electric Co (LEV US, 0.28% weight*), jumped nearly 13% last week after announcing the production of the company's first zero-emission LionC school bus, with production ramping up in 4Q. Furthermore, wind blade manufacturer, TPI Composites Inc. (TPIC US, 0.36% weight*), rose over 10% after its mixed 3Q earnings pointed to stronger global wind capacity growth heading into 2023. Finally, bioenergy distributor, Green Plains Inc. (GPRE US, 1.69% weight*), gained 8.42% last week after reporting 3Q revenue above estimates with an improving margin outlook for 4Q based on strong biofuel production and tax credits.
"Demand has been further catalyzed by the enactment of the Inflation Reduction Act. As a consequence, we are seeing increased demand from both existing and potential new customers, and included in our pipeline are several opportunities with multi-year, multi-gigawatt volumes."

– Mark Windmar, First Solar CEO, October 27, 2022

Global Battery Storage a Game Changer for Mass Clean Power Adoption
With Europe, the US, China and the rest of the world materially funding clean energy initiatives to become energy independent from a national security perspective as fossil fuel prices rise, battery storage capacity is what will expedite the mass global adoption of wind, solar, hydro/geothermal and fuel cell (hydrogen). Global battery storage additions (attachments) are expected to grow at a 21% compound annual rate through 2030 as costs come down, per BloombergNEF, to enhance the economics for clean power projects on commercial buildings, residential homes and local utilities.


BloombergNEF estimates that the recently passed $260 billion of US clean energy policy support through the Inflation Reduction Act (IRA) has led to an impressive +24% increase in US energy storage forecasts, both as attachments to clean energy projects and as stand-alone solutions to store and deliver clean power from the US electricity grid. While adding battery storage to a clean energy project can allow customers to potentially detach from the grid and/or sell more clean power back to the local utility, the upfront battery cost is still a major factor for project return on investment (ROI). The IRA provides a 30% tax credit on clean power storage – no longer unique to solar projects – that will expand the US capacity to store and deliver clean power at all times of the day.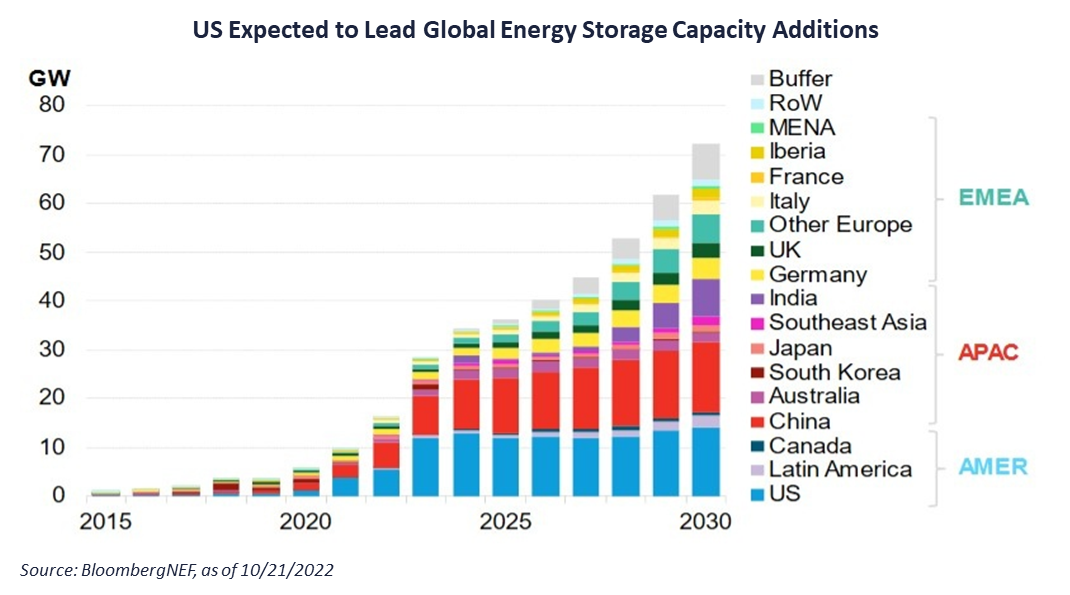 2022 is forecasted to be another record year for global energy storage installations, with 35 gigawatt (GW) hours of energy storage capacity added. To put this into perspective, 1GW of power is the same amount of energy as produced from 3.125 million solar panels.


ACES offers exposure to various clean power segments, as well as roughly a 5% weight to energy storage companies* within the US and Canada, providing investors with a diversified approach to investing in the fastest-growing aspects of clean energy.
* Weight in ACES as of 11/04/2022


Performance Summary
| | | | | |
| --- | --- | --- | --- | --- |
| | 1 Week | YTD | 1 Y | 3 Y |
| ALPS Clean Energy ETF (ACES) | -0.99% | -16.16% | -33.42% | 75.61% |
| CIBC Atlas Clean Energy Index - TR | -0.99% | -16.10% | -33.33% | 77.12% |
| S&P 1000 Index - TR | -1.48% | -14.62% | -15.80% | 25.33% |

Source: Bloomberg L.P., as of 11/04/2022

Performance data quoted represents past performance. Past performance is no guarantee of future results so that shares, when redeemed, may be worth more or less than their original cost. The investment return and principal value will fluctuate. Current performance may be higher or lower than the performance quoted. For current month-end performance call 1-866-759-5679 or visit www.alpsfunds.com. Performance includes reinvested distributions and capital gains.
For standardized performance please click here.


Top 10 Holdings
| | | | | |
| --- | --- | --- | --- | --- |
| First Solar Inc | 6.96% | | Livent Corp | 5.19% |
| Enphase Energy Inc | 5.80% | | Northland Power Inc | 4.91% |
| Rivian Automotive Inc | 5.72% | | Brookfield Renewable Partners LP | 4.59% |
| NextEra Energy Partners LP | 5.36% | | Tesla Inc | 4.41% |
| Lucid Group Inc | 5.26% | | Sunrun Inc | 4.38% |

As of 11/04/2022, subject to change


Important Disclosures & Definitions

An investor should consider the investment objectives, risks, charges and expenses carefully before investing. To obtain a prospectus containing this and other information, call 1-866-759-5679 or visit www.alpsfunds.com. Read the prospectus carefully before investing.

Shares are not individually redeemable. Investors buy and sell shares on a secondary market. Only market makers or "authorized participants" may trade directly with the Fund, typically in blocks of 5,000, 25,000 or 50,000 shares.

Performance data quoted represents past performance. Past performance is no guarantee of future results; current performance may be higher or lower than performance quoted.

All investments are subject to risks, including the loss of money and the possible loss of the entire principal amount invested. Additional information regarding the risks of this investment is available in the prospectus.

Obsolescence of existing technology, short product cycles, falling prices and profits, competition from new market entrants and general economic conditions can significantly affect companies in the clean energy sector. In addition, intense competition and legislation resulting in more strict government regulations and enforcement policies and specific expenditures for cleanup efforts can significantly affect this sector. Risks associated with hazardous materials, fluctuations in energy prices and supply and demand of alternative energy fuels, energy conservation, the success of exploration projects and tax and other government regulations can significantly affect companies in the clean energy sector. Also, supply and demand for specific products or services, the supply and demand for oil and gas, the price of oil and gas, production spending, government regulation, world events and economic conditions may affect this sector. Currently, certain valuation methods used to value companies involved in the clean energy sector, particularly those companies that have not yet traded publicly, have not been in widespread use for a significant period of time. As a result, the use of these valuation methods may serve to increase further the volatility of certain clean energy company share prices. 

The Fund seeks to track the underlying index, which itself may have concentration in certain regions, economies, countries, markets, industries or sectors. Underperformance or increased risk in such concentrated areas may result in underperformance or increased risk in the Fund. 

The Fund may be subject to risks relating to its investment in Canadian securities. The Canadian economy may be significantly affected by the US economy, given that the United States is Canada's largest trading partner and foreign investor. Any negative changes in commodity markets could have a great impact on the Canadian economy. Because the Fund will invest in securities denominated in foreign currencies and the income received by the Fund will generally be in foreign currency, changes in currency exchange rates may negatively impact the Fund's return. 

Micro-cap stocks involve substantially greater risks of loss and price fluctuations because their earnings and revenues tend to be less predictable (and some companies may be experiencing significant losses), and their share prices tend to be more volatile. The shares of micro-cap companies tend to trade less frequently than those of larger, more established companies, which can adversely affect the pricing of these securities and the future ability to sell these securities.

Smaller and mid-size companies often have a more limited track record, narrower markets, less liquidity, more limited managerial and financial resources and a less diversified product offering than larger, more established companies. As a result, their performance can be more volatile, which may increase the volatility of the Fund's portfolio.

The large capitalization companies in which the Fund invests may underperform other segments of the equity market or the equity market as a whole.

The Fund employs a "passive management" - or indexing - investment approach and seeks investment results that correspond (before fees and expenses) generally to the performance of its underlying index. Unlike many investment companies, the Fund is not "actively" managed. Therefore, it would not necessarily sell or buy a security unless that security is removed from or added to the underlying index, respectively.

Basis Point (bps): a unit that is equal to 1/100th of 1% and is used to denote the change in a financial instrument.

CIBC Atlas Clean Energy Index (NACEX): an adjusted market cap weighted index designed to provide exposure to a diverse set of US or Canadian based companies involved in the clean energy sector including renewables and clean technology. The clean energy sector is comprised of companies that provide the products and services which enable the evolution of a more sustainable energy sector. 

S&P 1000 Index: combines the S&P MidCap 400 and the S&P SmallCap 600 to form an investable benchmark for the mid- to small-cap segment of the US equity market.

One may not invest directly in an index.

ALPS Advisors, Inc. is affiliated with ALPS Portfolio Solutions Distributor, Inc. 

ALPS Portfolio Solutions Distributor, Inc. is the distributor for the Fund.

Not FDIC Insured • No Bank Guarantee • May Lose Value 

CLN000389 02/06/2023